Welcome Twisted Yoga Students!
We welcome you with open hearts and open arms to your new home here at One Tribe Yoga & Wellness.
Here at One Tribe Yoga & Wellness, our values are:
TRIBE:  Connection & a sense of belonging are essential.
AUTHENTICITY: Our ability to be true to who we are  leads to self-acceptance and trust in others.
GRIT:  Growth happens when we step outside of our comfort zone.
LEVITY:  We love to laugh at One Tribe!
EMPATHY:  Meeting everyone where they are has endless healing power.
METTA:  Unconditional love, kindness and compassion … enough said.
We built this space with the intention to help transform people's suffering into light, kindness and love. Knowing this journey is not always easy, we designed the space to feel warm, welcoming and inspiring.
We hope you'll find that we aren't just another yoga studio. We use state of the art infrared heating, a bumpin' sound system, hand selected lighting and tons of attention to sound insulation! Combine that with the fact our style of yoga & teaching is deeply rooted in Ashtanga Vinyasa and influenced by Vipassana Meditation lineages we are a unique addition to the south Tempe region. We even designed the space allowing for natural air ventilation.
We feel we've truly created something unique to meet anybody and any body that walks in the door, right where they are. Up until now we've offered hot, strong and swift vinyasa classes, slow, deep and sensual flow classes, slow and regenerative yin classes, classic Ashtanga and meditation.
Our practice shows us daily that Everything is Impermanent.
But inside the impermanence, you'll also find the familiar!
With the merging of studios and teachers, we're adding more classes that for you, will allow for a seamless integration with familiar faces and voices! We'll have Stephanie, Kajal, Jenna and Kassandra here for you adding even more layers and opportunities to our schedule with classes like Power Flow, Yoga Sculpt & Restorative Sound Healing.
In addition to hoping that One Tribe will be your new yoga home, we offer healing massage treatments as well.  We've created uber comfortable massage tables, insulated walls for quiet and the highest level of quality therapists to support you on your path of healing.  We look forward to becoming your ultimate self-care home as well.
We want this transition to feel right for you …
Enjoy our New Student 30 Day Trial for just $49 to make sure it's a good fit.  And during the 30 days, mention that you're a Twisted Yogi and get an extra 30 minutes added to any massage treatment booked. (See below for details on booking your massage with this deal)
If it does feel right … and we feel certain that it will … we're excited to extend a super sweet offer to make you feel even more at home with your new Tribe.  This exclusive, limited time offer will not be advertised and was designed for One Tribe OG Members (students that have been with us since the very beginning!) to show our deep appreciation for their inspirational dedication and unconditional love and support.
We'd love to welcome you into the Tribe as an honorary One Tribe OG! The below offers are good until Nov. 1, in hopes you have a chance to explore, share and enjoy what's waiting for you here at One Tribe!
OG UNLIMITED ALL-ACCESS YOGA MEMBERSHIP – $119/MO
Includes unlimited In Studio Yoga, unlimited Virtual Live-Streamed Yoga, unlimited Yoga in the Park
OG ULTIMATE WELLNESS MEMBERSHIP – Starting at $189/MO
Includes All-Access Yoga and one 60 Minute Massage (90 Min. & 120 Min. options also available)

Here's a sneak peek at the schedule waiting for you!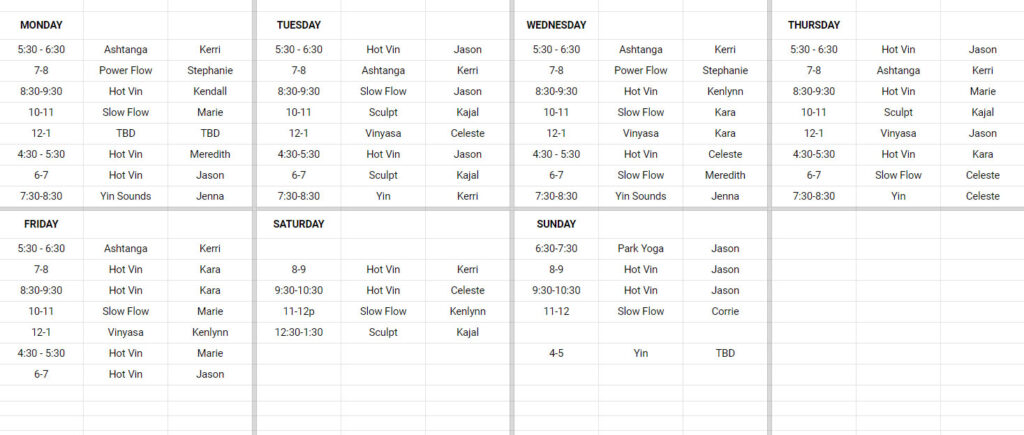 Some things that will be helpful to know and do before you come see us:
Due to limited class sizes, our system is setup to only accept advanced bookings 3 days in advance. If you see a 'waitlist' marker, you can still sign up and we'll notify you if you move from waitlist to in-class with as much notice as possible!
Starting OCT 1, the above schedule will begin. You will find the new yoga schedule here when it's live!
To save time and help keep a touchless environment to get the waiver complete before you come in. Click here to fill it out.
Keeping the community safe & clean has always been and continues to be during these delicate times. Learn more about our COVID Protocols.

With any massage at One Tribe, you have access to Relaxation, Therapeutic, Cupping, Stretching, Vibration, Thai Body & Thai Foot!
During your introductory 30 days here, book yourself a massage at our non-member rates and add 30 minutes to it on us! When booking, please book the entire amount of time you want, and then we'll deduct the costs after the session when you pay. To be clear, if you want 90 minutes, book 90 minutes and we'll charge you for 60.
We are looking forward to greeting you to your new home & introduce you to your expanded tribe here at One Tribe Yoga & Wellness.
We love you and there's nothing you can do about it!
Kerri, Jason, Jira (the dog) & the entire OTY&W family!